Taking the recommendation of the recent
Sun Sentinel Best Burger poll
, we went to
Gilbert's 17th Street Grill
in Ft. Lauderdale the other night for dinner. Gilbert's is a bit different from the staple 'best burger' joints one might encounter when traveling around the country. The major differentiator here being the location's age. This is because this Gilbert's establishment can't be more than 5 years old; where most other burger classics have 30 years plus on this newborn.
Opening up the door and entering in you quickly realize this is a friendly establishment that probably caters to a busy business lunch crowd. When you complete your order you are given a number to post on your table so the food runners know where to drop your burger baskets off.
We arrived late, 8:30ish, marched right up to the area where the ordering line forms. We studied the menu and then went to the register to place our order. Behind the counter was Mr. Gilbert himself. We didn't know that at the time, but his caliber of service indicated that this gentleman was probably more than just an order taker and it was confirmed later when we were waiting for our baskets and Mr. Gibert was working the room to make his guests feel more comfortable. During that time he introduced himself. I can't remember a time in south Florida where someone delivered such premiere service.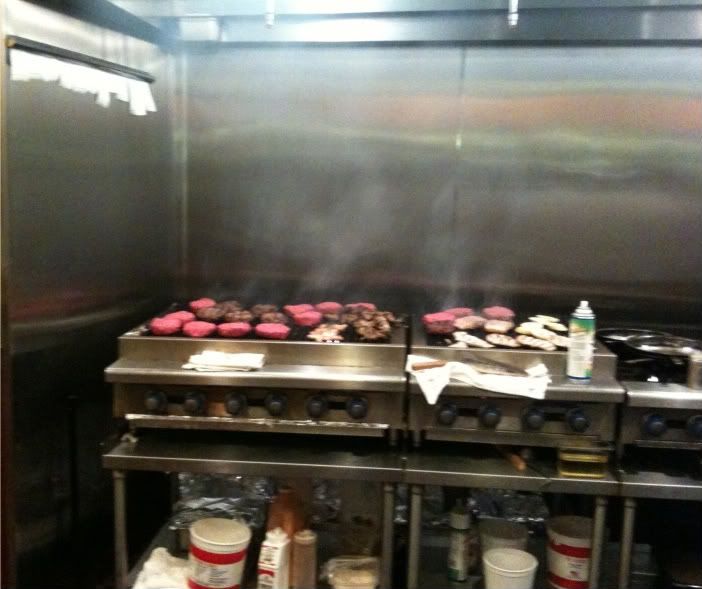 I ordered their cheeseburger after salivating by watching the grill. I wanted one of the more deluxe burgers (bleu cheese or bacon) but figured trip #1 should be with the classic. Behind the cash register you could see these heaping burgers scattered all over the grill's hot surface. They must roll out a sheet of angus meat about an inch thick and then use a round cutter to punch out the patties. I say this because of how loose and large the patties appeared as they were carried to the grill area. I completed my order with sweet potato fries and told the gentleman medium rare when asked about my temp.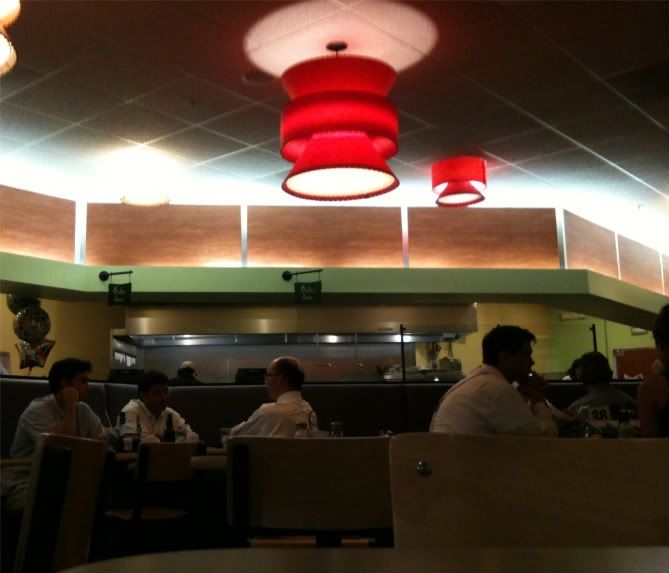 A while later our baskets arrived. Mine was cooked pretty much perfect. The outside of my burger was charred to lock in juices. The inside had a cool, completely pink center. This perfect patty had 2 or 3 slices of American cheese tossed on top. These are the fresh kind of deli cheese slices that they probably sliced in the back themselves. Then on the other side of the open face bun was fresh lettuce and tomato. Sitting behind my burger in my basket was a handful of sweet potato fries cut in perfect strips and fried off in brand new oil. I also asked for a side of barbeque sauce to dip my fries in.
I cut my burger in half and worked through it like it was my job. The ingredients Gilbert's uses are top notch. My cheeseburger could have used some more seasoning. I'm not sure if some salt and pepper would have done the trick or maybe some additional spices. But I knew ahead of time from the
Sentinel
article that they opt to keep the meat unaltered and not add anything to their Angus.
Overall, great service, good quality food, and a staple location. I'll be back.
--Note all of these photos were taken with my iPhone. You can click on each of them for a better image.--