I recently went through my burger pictures and realized that I had previously not posted a handful of meals. Below are some leftovers that I may have referred to but never posted previously. Enjoy!
First up,
Mr. Joe's
in Southfield, Michigan. I recall the great sweet potato fries. The burger was okay and came at a very cheap price.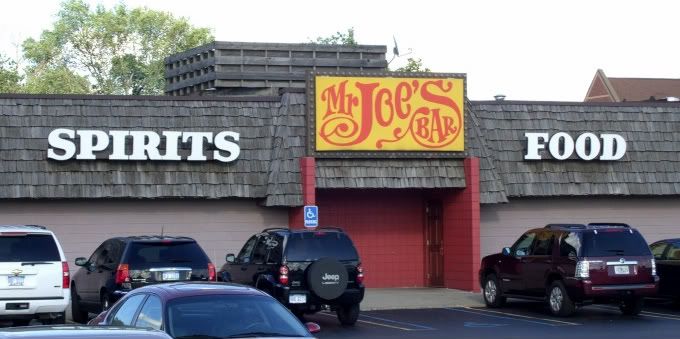 The popcorn they served at
Mr. Joe's
when you sit down is a nice treat as well.
Miller's Bar
in Dearborn, Michigan remains one of my favorites. The things that I remember distinctly are the honor code when paying for your meal. You just walk up to the bar and tell them what you had and they ring it up on an old cash register.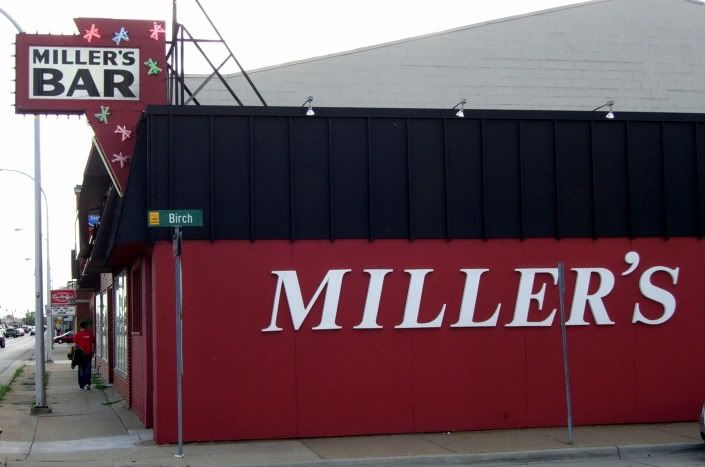 Each burger at
Miller's
comes to the table in a paper wrapper without a plate. There are stacks of patties ready to go by the bar. And are cooked tens at a time on a flat top. A soft squishy bun and a perfect burger. The exterior of the joint is very plain but well worth the visit.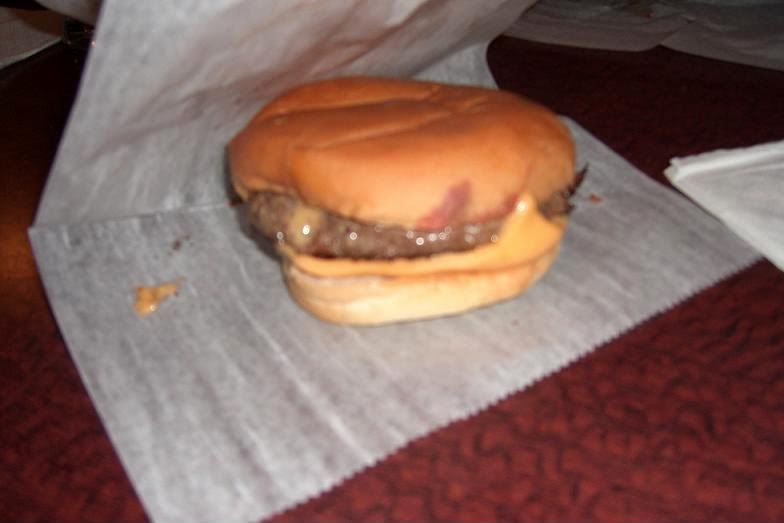 Christy's in Starkville, Mississippi was supposed to be one of the best burger stops around. I found it mediocre but worth the stop in the small town. You can see here in this out of focus picture that they sure do serve up a classic presentation.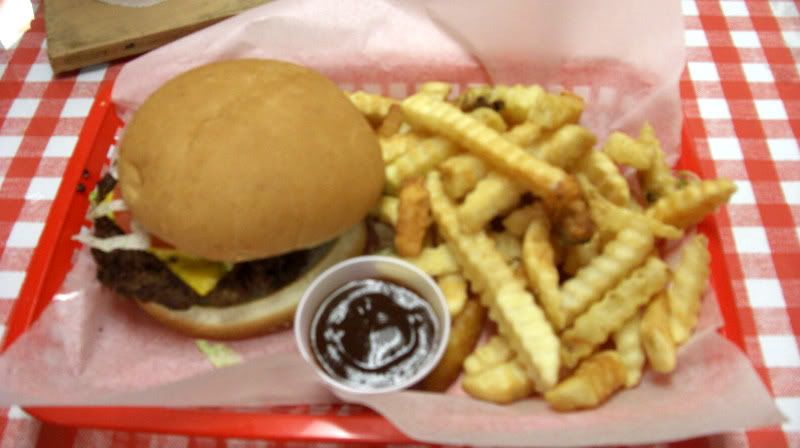 And then there is
Jack Fry's
. A classic establishment in Louisville, Kentucky. They serve a good burger topped with caramelized onions and mushrooms tucked below the cheese. This is a great place but potentially better visited for steak or a glass of wine.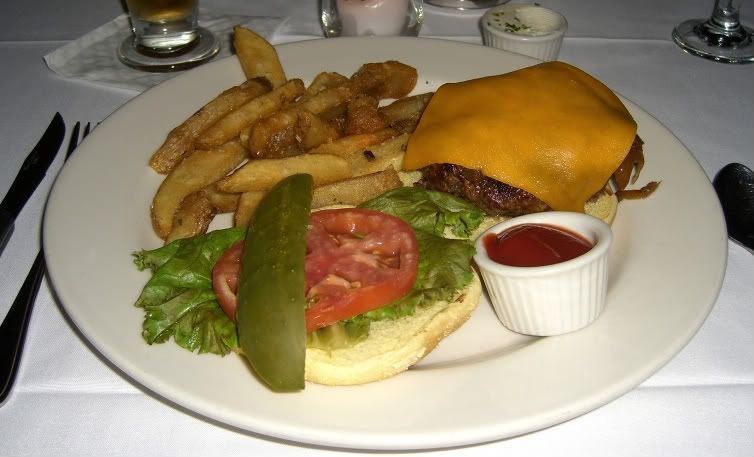 El Rey de Las Fritas
in Little Havana, Miami. I probably will not find another burger like this anywhere else. But I will be back to 8th Street to eat one again. The patty integrates beef with chorizo and is topped with a plethora of shoestring fries sandwiched between Cuban bread. I found this place through
A Hamburger Today
with an article referencing
Food Network's 50 best burgers
. Don't forget to try the
Materva
. This Yerba Mate drink is tasty.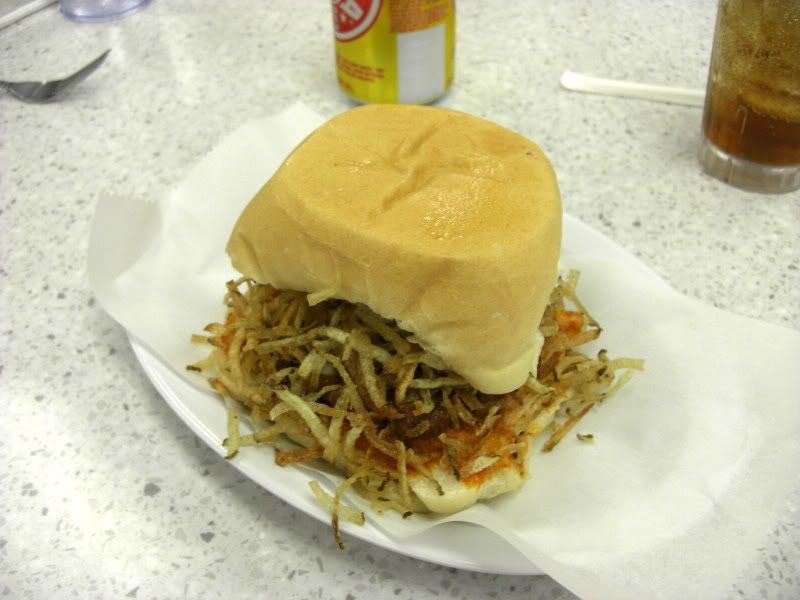 Corner Bistro
. A long term burger destination with recognized aficionados. My experience there was not so good, but I'm hoping it was an off day. Here is a shot from the outside when I was in New York and had 2 and half burgers for lunch at
Shake Shack
,
brgr
, and
then
Corner Bistro
.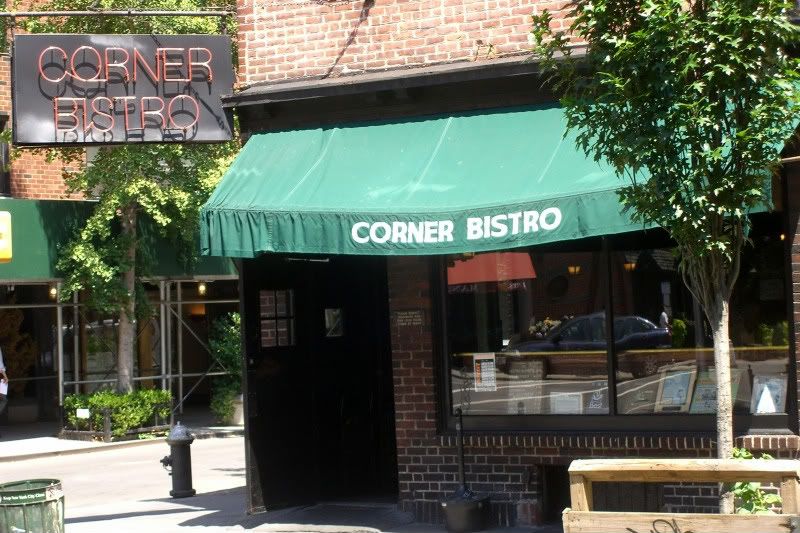 My last pic is from
Kingdom
. I remember my
Kingdom
burger to be very good. It came out in a red basket and was prepared pretty much how I would write up my favorite burgers. Condiments, temperature, and bun.